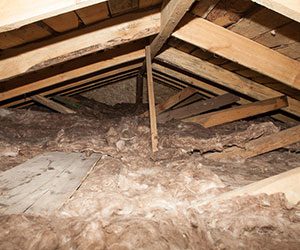 If you are eager for spring and already in the middle of house projects, there is one task to add to your list: checking your attic. Most attics get little attention. It is important to inspect your attic regularly, especially after a hard winter. Spring is the best time for this activity because any winter weather damage will be easy to spot.
Checking and updating your attic insulation now will ensure your home is protected from summer heat and ready for next winter's cold temps. Although it's important for all areas of your home to be insulated, your attic is particularly important; and it's also an easy place to check. The majority of energy waste occurs through your home's attic if it's not properly insulated.
Correctly insulating your attic space will help keep heat where it belongs – in your living space. If your attic has inadequate insulation, blown-in fiberglass can be added on top of existing insulation to create a complete thermal blanket.
Proper ventilation is also an important part of attic insulation and an effective fiberglass insulation attic system. Attic ventilation helps facilitate proper airflow through the attic space. This allows the entire attic system to work effectively, prevents moisture build-up and lets the insulation to do its job.
When inspecting your attic, be sure to check the roof deck for any water damage. This could appear as wet areas on the roof deck or dark areas that have been stained by water.
Now is the time to check and upgrade your attic! Contact our office to schedule your insulation consultation today!