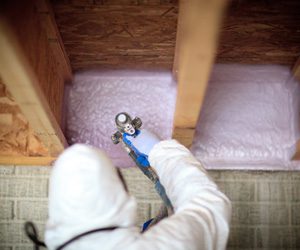 Basement box sills and rim joists are a major source of energy loss. They are located around the perimeter of the basement ceiling where the walls of the home meet the foundation. These areas are some of the thinnest points in a home's exterior and allow outside air to easily leak into the basement.
Unconditioned outside air enters the home through these areas. They are also convenient entrance points for pests. Spiders, bugs and other creatures can find their way into your home through penetration points left behind around HVAC, electrical and plumbing access points next to the basement ceiling.
Insulating basement box sills and rim joists with spray foam adds R-value and seals air leaks in one step. Hiring a qualified, insured and experienced spray foam contractor will ensure your basement box sills and rim joists are properly insulated and air sealed.
Insulating and air sealing your rim joists and box sills will make your basement (and entire home) more comfortable, reduce pest infestation and help lower your energy bills. Contact us to schedule your free estimate!