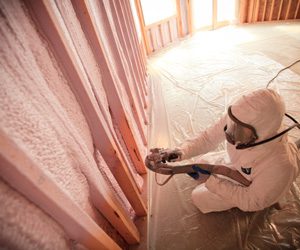 Spray foam adds thermal protection and seals air leaks in one application. Spray foam insulation is made up of two materials. When combined, the reaction causes them to expand and harden. There are two types of spray foam insulation: open cell and closed cell. Closed cell spray foam is more dense than open cell spray foam and has a higher R-value. Open cell spray foam also adds R-value and seals air leaks but is less dense than closed cell spray foam.
Some advantages of spray foam insulation:
Because it fills even the smallest penetration points, spray foam insulation is an effective moisture and air barrier.
Spray foam insulation can provide structural stability by expanding into cracks and crevices in your floors, ceilings and walls.
Helps keep out pollutants that may enter the interior of your home.
Because it is impermeable to water, its insulating properties are not compromised by moisture.
The combination of R-value and air sealing makes it an ideal product to manage your home's temperature.
Can help reduce noise transfer.
Contact Whitson Insulation in Grand Rapids today and one of our professionals can answer your spray foam questions.