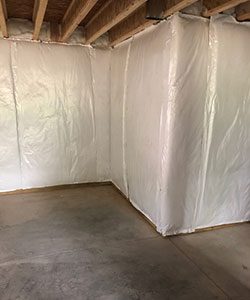 When thinking about insulation, the attic is the first area of a home that comes to mind. Many homeowners never think of the energy lost through an uninsulated or under-insulated basement.
Basements are a major source of energy loss. Basement box sills, located around the perimeter of the basement ceiling where the walls of the home meet the foundation, are the thinnest points in a home's exterior, allowing outside air to leak into the basement.
Basements are constructed from concrete which easily transfers cold, damp air from the surrounding earth into your basement. This creates a cold basement and the cold air can also affect the temperature of your home's first floor.
Basements can be successfully insulated with rolled fiberglass insulation with an attached vapor barrier. This product is often (and appropriately) called basement roll. Basement roll is taped to the top of the concrete walls near the box sills and covers the entire concrete wall. If a basement is partially above grade, areas surrounding the windows are insulated with fiberglass batt insulation and covered with drywall. As a final step, box sills are insulated with fiberglass batts or spray foam.
Increase the comfort of your home's living space with basement insulation.
Contact our office to learn more and schedule your free estimate.